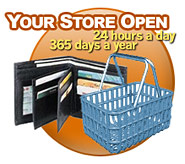 Companies conducting business-to-business electronic-commerce could be part of a market expected to total $8.5 trillion worldwide in 2010. Are you ready to cash in on this market?
What is E-Commerce?
Electronic Commerce (E-Commerce) is defined as the conduct of a financial transaction by electronic means. With the growth of commerce on the Internet and the Web, e-commerce often refers to purchases from online stores via the Web, otherwise knows as e-commerce Web sites. They may also be referred to as "virtual-stores". Shopping may be referred to as "Cyber Shopping".
What are the advantages of an E-Commerce Web site?
Your store is open for business 24 hours a day, 365 days a year.
You have access to one of the most rapidly growing markets.
You can increase your sales with little or no extra time from you.
You can give yourself a competitive edge over your competitors.
You can gain new customers locally and worldwide and make it easy for existing
customers to return to you.
Your customers have access to your store from the comfort of their own home
any time they are ready to shop.
Reduced cost of goods sold. You may not have to stock your inventory ahead of time.
No additional employees to pay. Your site does all of the work.
Allows you equal opportunity to compete globally with the retail giants.
E-commerce web site management
You will be given full training by the staff at VR Metro Web Design on the use of the administration tools provided to control your inventory, orders and stock levels.
You will have the ability to offer and control featured items, sale items, closeout items and related items.